What makes a Best-In-Class TPO Solution?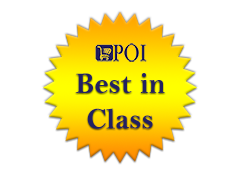 TPO Ergonomics
+
Field and Analytics Insight

"The simplicity of the planning process and high degree of usability cannot be understated. We believe that most anybody could learn the solution and begin using it in

less than half a day.

"
The 2017 POI TPx Vendor Panorama has recognized T-Pro Solutions as a Best-In Class Trade Promotion Optimization Solution.

Report Highlights:
It is a highly entrepreneurial company and features a core management team with deep industry experience.

Unlike most TPx solutions, which integrate into an ERP system, T-Pro integrates into an existing TPM solution.

It is the accuracy of its baselines that is attracting clients who have found less accuracy elsewhere, which had previously distorted their approach to promotions.

Customization is an option at an incremental cost. Any other modifications would be built into the core product at no cost to the client.

It is simple and yet powerful — with emphasis on simple.

Rated above average in UX and analytics capabilities.

Traction with a broad variety of name-brand Tier 1 companies as well as regionals.